Fire Prevention Safety Tips for Holiday Cooking
According to the National Fire Protection Association, Thanksgiving is the peak day for home cooking fires, followed by Christmas Day and Christmas Eve. In 2015, U.S. fire departments responded to an estimated 1,760 home cooking fires on Thanksgiving Day alone. The most contributory factor to these cooking fires and fire deaths is unattended cooking.
Enjoy Your Deep Fried Turkey Without Starting A Fire!
Deep-fried turkeys are becoming a more popular addition to the Thanksgiving Day spread. While they are delicious, they can also pose a serious fire risk to you and your home as well as other methods of cooking for the holidays.
Fryers can easily tip over spilling hot oils onto the burners causing much larger flames. Frozen or partially frozen turkeys that are put into a fryer can cause serious damage to your home and yourself. Here are a few tips to avoid serious damage or injury while cooking for the holidays.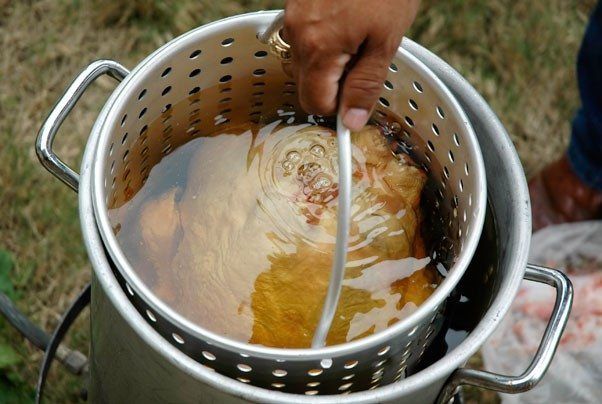 Fire Prevention Tips for the Holidays
Never leave your cooking food unattended
Keep the floor clear, so you don't trip over toys, kids, etc.
Make sure electric cords
aren't dangling off the counter easily accessible by children
Never leave children alone in a room with a lit candle
Make sure your smoke alarms are working, test them by pushing the button
Do not deep fry a frozen turkey, the moisture and hot oil will cause oil to explode out of the fryer
Don't use too much oil. Oil is highly flammable and spills lead to fire damage to your home.
Clean cooking services on a regular basis to prevent grease build up
Always check the kitchen before you go to bed and before you leave your home. Burners and appliances are easy to forget and often lead to kitchen fires.
Carolina Restoration Services of North Carolina, Inc. is a Certified Firm through IICRC (Institute of Inspection Cleaning and Restoration Certification) and is affiliated with BBB, RIA, and HBA of Raleigh/Wake County. +
Our crew members have individual certifications through IICRC in the following areas: Water Damage Restoration, Fire & Smoke Restoration, Applied Structural Drying, Applied Microbial Remediation, Carpet Repair & Reinstallation, and Odor Control.
NC General Contractor License: 43004