How To Protect Your Home From Spring Storm Damage
It is important to prepare your Raleigh, NC home to handle spring storms and unpredictable weather. If you home is not adequately prepared to withstand the effects of spring storms, your property could sustain damage from thunderstorms, wind, hail and other types of spring weather. A spring storm can happen quickly, so it is best to always have your home prepared. Continue reading to learn how to protect your home from spring storm damage.
Spring Storm Preparation in Raleigh, NC
Inspect Your Roof and Siding. Since your roof and siding are your properties most important line of defense again spring storm conditions, it is important to inspect them to make sure there is no room for potential damage. Damage to your roof and siding make your property susceptible to water damage that can cause serious damage within your home.
Inspect Roof For Leaks. Roof leaks can cause serious damage to your home by allowing water to seep in and absorb into the ceilings, walls and other building materials. Inspect the interior of your home for signs of roof leaks and have any existing damage repaired prior to the spring storm season. You should hire a professional to inspect the exterior of your roof for signs of roof leaks.
Inspect and Clean Gutters. It is important for your gutters to be clear of all debris so that spring storm water can flow freely away from your home. Prepare your property for spring storms by cleaning gutters and downspouts to prevent your home from experiencing storm related water damage.
Inspect Doors and Windows. Damaged doors and windows will provide less protection from water damage and wind damage during spring storms. Signs of damaged doors and windows include cracked glass, condensation, worn weather stripping and abnormal air flow. Any windows or doors that exhibit these signs should be replaced or repaired prior to spring storm season.
Wind Damage Protection. Protect your home from wind damage by removing loose and dead tree branches, repair loose parts of roof and siding and secure or bring outdoor furniture and other items indoors.
Maintain Sump Pump. Sump pumps help to keep excess water outside of your home. Check your sump pump prior to spring storm season to ensure it is working properly. If you do not have a sump pump, consider installing one to prevent storm flooding.
Once a severe spring storm has passed, you should inspect your property for damage. Storm damage varies depending on the severity of the storm but can include both interior and exterior property damage from water, wind, fire and smoke.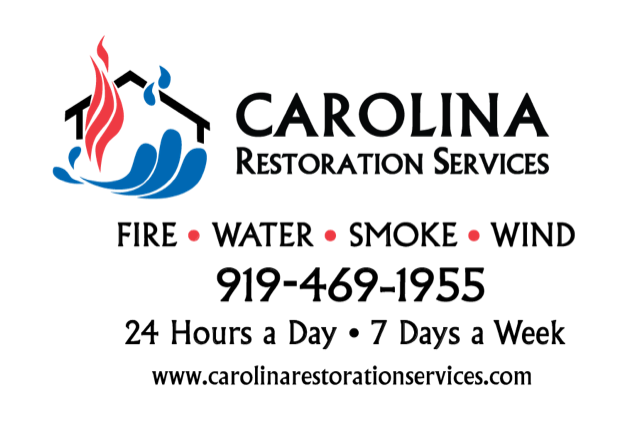 Spring Storm Damage Repair and Storm Restoration in Raleigh, NC
When you experience damage from wind, hail, lightning, or flooding in Raleigh, NC and surrounding areas, contact Carolina Restoration Services. A member of the Carolina Restoration Services team will respond quickly to your water damage, wind damage and storm damage needs, anytime 24/7. Whether you need water extraction for flooding, smoke and fire damage services for lighting strikes, or any other wind and storm damage repair service in Raleigh NC and surrounding areas, Carolina Restoration Services is available to help.
Carolina Restoration Services of North Carolina, Inc. is a Certified Firm through IICRC (Institute of Inspection Cleaning and Restoration Certification) and is affiliated with BBB, RIA, and HBA of Raleigh/Wake County. +
Our crew members have individual certifications through IICRC in the following areas: Water Damage Restoration, Fire & Smoke Restoration, Applied Structural Drying, Applied Microbial Remediation, Carpet Repair & Reinstallation, and Odor Control.
NC General Contractor License: 43004