What Is Contents Restoration?
When disaster strikes your home, it's not just the property that's affected, it is also it's contents. In the aftermath of a water or fire disaster, it is important to begin contents restoration immediately. Your valued belongings will need to be professionally cleaned and treated to save them from being ruined. Continue reading to learn about contents restoration and how the Carolina Restoration Services team can help restore your personal belongings.
What Is Contents Restoration?
Contents restoration services include cleaning, repairing and restoring your belongings after a water, fire, smoke or mold disaster. Contents cleaning after loss requires specialized equipment and skilled contents restoration technicians to restore your items to pre-loss condition. It is necessary to identify the construction and material of each item to determine the proper cleaning methods and ensure the best results for each individual item.
Contents cleaning will be done with Carolina Restoration Service's state-of-the-art equipment and special chemicals. Our contents restoration team will also clean individual items by hand. If the damage to an item is too severe and unable to return to pre-loss condition, it will be inventoried as non-restorable for your insurance.
Once your personal belongings have been professionally cleaned, they will be placed into our in house ozone room and deodorization chamber. After the contents restoration and cleaning process is complete, your belongings will be carefully packed and placed into our onsite storage until your property restoration is complete.
The contents restoration process depends on the type of disaster and type of belongs in your home. The Carolina Restoration Services contents restoration process could include:
Full pack-out, including itemization, cataloging and carefully packing belongings and transporting them to our fully secure and climate-controlled facility.
Contents processing using our state-of-the-art processing line.
Repacking and safe storage of restored items.
Inventory of unsalvageable items.
Restoration of salvageable personal items.
Access to belongings during restoration if an item is needed.
What Can Be Restored After Damage?
Fabric and Textiles. It is often possible to clean, sanitize and deodorize fabric and textiles including: curtains, rugs, carpeting, clothing, and luggage.
Photographs and Family Heirlooms. Some items are irreplaceable and need to be restored, such as photos, antiques, jewelry, grandfather clocks, china and collectibles.
Furniture. The process of restoring furniture after a disaster varies depending on the item, such as couches, tables, beds, book cases and cabinetry.
Electronics. Deep cleaning may be able to restore electronics in working order such as, laptops, TVs, appliances, gaming systems and printers.
Documents. Every home has critical paper work that needs to be restored such as books, tax records, medical records, legal documents and journals.
Personal Belongings. There are many items that do not fall into the categories above that need restoration, such as pots and pans, glassware, decorative items and toys.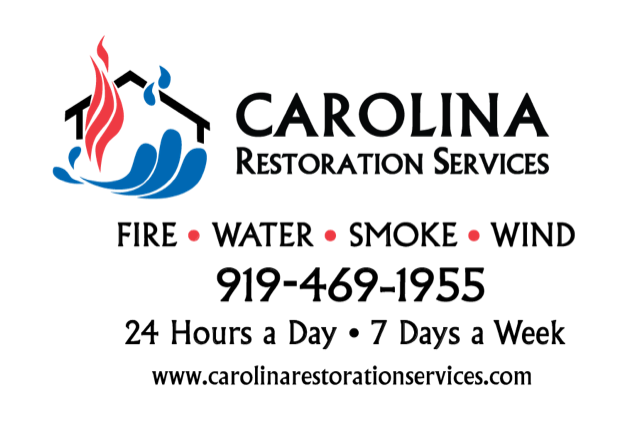 Contents Cleaning and Contents Restoration in Raleigh, NC
Carolina Restoration Services provides professional contents cleaning and contents restoration services for belongs affected by water, fire, storm, or mold damage. We are a full-service disaster restoration company offering in house contents restoration in Raleigh, NC, including pack-out, cleaning, storage, and pack-back. Our contents restoration services are performed by our expert contents restoration team onsite at our 30,000sqft facility. If you home or business has been affected by a water, fire, smoke, wind or mold disaster, trust the team at Carolina Restoration Services to help you each step of the way!
Carolina Restoration Services of North Carolina, Inc. is a Certified Firm through IICRC (Institute of Inspection Cleaning and Restoration Certification) and is affiliated with BBB, RIA, and HBA of Raleigh/Wake County. +
Our crew members have individual certifications through IICRC in the following areas: Water Damage Restoration, Fire & Smoke Restoration, Applied Structural Drying, Applied Microbial Remediation, Carpet Repair & Reinstallation, and Odor Control.
NC General Contractor License: 43004