Storm Damage Restoration: What To Do After A Storm
Weather in Raleigh, NC and surrounding areas can be unpredictable. Even the most prepared homes can suffer from serious storm damage from water, wind, and flooding. Once a storm has passed, it is important to begin restoration quickly to prevent serious damage to your home. Continue reading to learn which areas to check and how to move forward with restoration after a storm in Raleigh, NC.
Check Your Roof For Storm Damage
Your roof is an extremely vulnerable area of your home during a storm. Your roof is subject to wind damage, hail damage, and even branches and other projectiles from high wind and rain. A damaged or broken roof can lead to serious water damage if the storm damage is not addressed quickly. Several indicators of storm damage to a roof are missing shingles, split seams and holes or cracks. Always consult a professional before attempting to climb on your roof.
Check the Interior Of Your Home For Storm Damage
After inspecting your roof, you should inspect the interior of your home for visible signs of water damage from the storm. Check the following areas for signs of storm damage:
Ceilings. If you roof is leaking, there is a good chance you will see signs within your home. Check your ceiling for wet spots, dripping, dark marks, flaking paint and discoloration.
Walls. Signs of storm damage on walls includes streaks of water, water stains, spots of mold and cracked or damaged drywall.
Floors. Check your floors for visible storm damage, this includes wet spots, puddles and sloping or uneven floors.
Attic. Leaks are likely to affect the highest point of your home first, inspect your attic for signs of storm damage including puddles, drips of water, wet beams, damp insulation and light visible through the roof.
Plumbing. Leaks can sneak into where pipes are located causing damage to your home, signs include wet spots around pipes and musty smells and odors.
Check the Exterior Of Your Home For Storm Damage
After inspecting the inside of your home, you should walk around the exterior of your home to check for storm damage. Storms can cause windows to shatter, siding to rip off, and projectiles to damage your home. You should check for detached gutters or trim and damage to your siding to prevent serious water damage.
Other places you should check for storm damage around the exterior of your home include:
Walk around your yard and dispose of any debris that may have landed on your property due to wind, doing so will prevent them from damaging your home during a future storm. The most common form of storm related debris includes branches, garbage cans and outdoor furniture.
Check under your crawlspace for storm damage. Unchecked crawlspaces can result in standing water from a storm that will cause serious damage to the foundation of your home.
Inspect your driveway and walk ways for cracks and serious damage. Damaged concrete near and around your home can lead to foundation damage and water damage.
Check around your property for fallen power lines. Never attempt to move or repair fallen power lines, call a professional instead.
What Happens When Storm Damage Isn't Addressed?
When moisture from storm damage isn't addressed quickly it can lead to major damage to your home. It is extremely important to identify and address storm damage as quickly as possible to prevent mold growth, rotten siding, weakened roofing and a cracked foundation. These issues can spread fast and negatively affect the integrity of your home. If you experience storm damage , wind damage or water damage in Raleigh, NC call Carolina Restoration Services.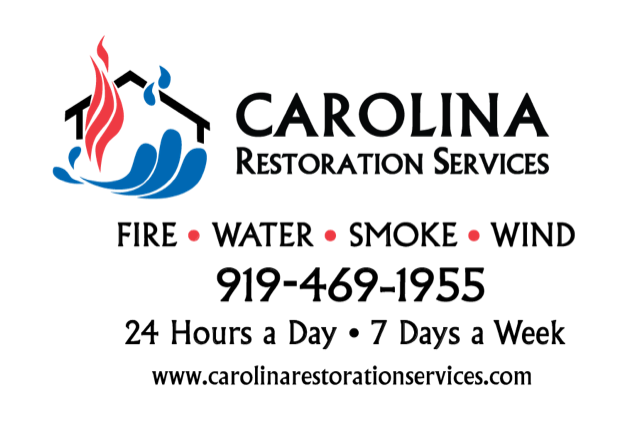 Storm Damage Restoration and Storm Damage Repair in Raleigh, NC
When you experience storm damage and wind damage in Raleigh, NC and surrounding areas, contact Carolina Restoration Services. Our team is on call 24 hours a day to make sure we can quickly respond to all of your wind damage and storm damage restoration needs in the Triangle. Whether you need water extraction for flooding, smoke and fire damage services for lighting strikes, or any other wind and storm damage repair service in Raleigh NC and surrounding areas, Carolina Restoration Services can help.
Carolina Restoration Services of North Carolina, Inc. is a Certified Firm through IICRC (Institute of Inspection Cleaning and Restoration Certification) and is affiliated with BBB, RIA, and HBA of Raleigh/Wake County. +
Our crew members have individual certifications through IICRC in the following areas: Water Damage Restoration, Fire & Smoke Restoration, Applied Structural Drying, Applied Microbial Remediation, Carpet Repair & Reinstallation, and Odor Control.
NC General Contractor License: 43004